GBARC During the COVID-19 Pandemic
We remain willing able and ready to support the emergency communication needs of the Bridgeport EOC and the American Red Cross.
Our foxhunts are designed to ensure physical distancing criteria are maintained.
Our Weekly Thursday night net will continue as planned.
Our monthly meetings starting with April 14 and other get-to-gethers will be held via Zoom video conferencing. Instructions here. Please set this up in advance of the meeting.
Stay well and we hope to see you face to face when this is over.
---
Who we are and what we do
The Greater Bridgeport Amateur Radio Club (GBARC) is an ARRL affiliated club whose mission is to support the City of Bridgeport during times of emergency and non-emergency by providing training and technical expertise. We seek to further the exchange of information and cooperation between members and non-members, to promote radio knowledge, fraternalism and individual operating efficiency; and to conduct club programs and activities as to advance the general interest and advancement of amateur radio and ham radio operators in our communities.
If you are a licensed radio amateur operator you are invited to join us order to help meet these goals. Come experience new and exciting activities while you have a chance to learn from others. If you are not a GBARC member and need any information about joining, training or making donations, or for general comments concerning our website please contact us at and we will respond as soon as possible.
---
Online License Testing
It's been tough during the Covid-19 shutdown for those who want to become a newly licensed ham or upgrade their existing licenses. At least one organization is providing online proctored tests that meet FCC guidelines.
---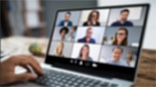 Monthly Meeting -
December 8 at 7:45pm ET
We invite all amateur radio operators and those looking to become licensed to visit us at our next meeting. Our next meeting will be held via Zoom.
---
Weekly Net -
December 3 at 7:00pm ET
GBARC holds a weekly net in order to practice net protocol, pass club and technical information, and hold a general rag chew. Our weekly nets are held each Thursday at 8pm Eastern Time. You can participate in the net by listening to the linked repeaters at:
VHF Repeater WA1RJI
Receive: 146.445 MHz
Transmit: 147.445 MHz (+1MHz offset)
CTCSS Tone: 77Hz
UHF Repeater N1KGN
Frequency: 441.700 MHz
Transmit: 446.700 MHz (+5MHz offset)
CTCSS Tone: 77Hz
Echolink Node: 441700
---